Featured Image by Reuben Cox 
---
Indie-rock singer-songwriter Andrew Bird rejects tradition with his first-holiday album HARK!. Blending holiday classics with original tracks, HARK! proves not only to be a timeless Christmas album but a collection of songs that span all seasons.
As another year nears its end, the annual holiday season comes to a start. And with every winter, there is a sporadic sprinkling of musicians releasing covers of traditional holiday songs. Steering away from the normative covers, Andrew Bird released a not-so-traditional Christmas album HARK! on October 30, 2020. The "Sisyphus" singer intricately laces old with new by paying homage to the ghosts of Christmas past with his versions of "Oh Holy Night," "Auld Lang Syne," and "White Christmas." Bird, whose most recent artistic venture was guest-starring on Season 4 of FX's Fargo, contributes his twist on holiday music with his original tracks, "Christmas in April," "Night's Falling," and "Alabaster."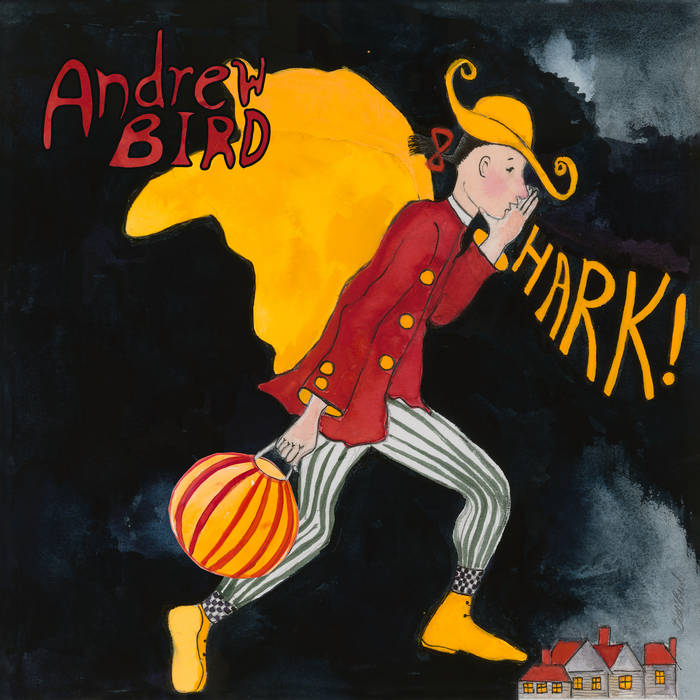 Album artwork designed in collaboration with Bird and his mother, Beth Bird
The 13-track album decks the halls with smoky sentiments highlighting overlooked undertones that typical holiday albums skip. The collection of songs entrances listeners the mindset of a soundtrack that would play at a medieval banquet. Instead of relying on Christmas' redundant cheery sounds, Bird decides to create an abstract restyling with HARK!'s enigmatic demeanor.  
The first track, "Andalucia," originally written and performed by John Cale in 1973, is a warming welcome into the unconventional holiday sound. Bird's spin on Cale's song is nuanced with textured vocals of seductive sensitivity. The ambiguously-rich track does not capture the classic feeling of Christmas but instead aims to produce the hollowed ambiance that winter notoriously epitomizes. Adding to the genius of Bird's reproduction of "Andalucia" is an animated music video that gives cartoon Christmas classics like Rudolf the Red-Nosed Reindeer and Frosty the Snowman a run for their money. 
Animated video directed by Abigail Portner
Other renditions of popular holiday songs that Bird adapts include Irving Berlin's "White Christmas," Vince Guaraldi's "Christmas is Coming," and "Skating," and Adolphe Adam's "Oh Holy Night."  Bird also recreates John Prine's holiday hidden gem "Souveniers," and a modernized take on Franz Schubert's 1816 classical piece "Mille Cherubini In Coro." 
Bird's "White Christmas," originally featured on his 2019 EP of the same name, HARK!, manifests as hypnotically moody, transporting you to an isolated beach in Hawaii. Crossing continents, Bird's "Christmas is Coming" semblances a state-of-mind of sipping espresso in a French cafe while writing romantic prose with your significant other nestled by your side. 
A personal favorite, "Nights Falling," initially released on Bird's 2019 EP HARK!, is a gentle embrace on the emotional strings that connect one's heart to the elemental persona of home. Like "Andalucia," Bird shared a coinciding animated music video for his original track, "Night's Falling," that adds visual introspection into the tender lyrics of the song. 
The video, animated by Katherine Freer, is inspired by the art of Beth Bird.
Bird's second original track, "Alabaster," is reminiscent of his successful 2019 album My Finest Work Yet, showcasing his violin skills and making you forget you are listening to Christmas music. Even when Bird isn't singing in instrumental-only tracks such as "Glad," his talent shines through with his impressive whistling skills. 
Because this winter is umbrellaed by the events of this past year, there is a heavy-hearted holiday spirit that looms over this season. It may be hard not to have an Ebenezer Scrooge outlook on this winter, especially when it comes to hearing Christmas music already blasting in grocery stores when it isn't even December. However, if you are going to give Christmas music a chance this year, Bird's HARK! is the way to go. If you are still not willing to commit your time to an entire album, the takeaway track "Christmas in April" is a must-listen regardless of your preconceived holiday-music hate.  "Christmas in April" was written during the middle of the pandemic this past spring, embedding the collective feeling of solitude. 
Bird discusses the meaning behind his original COVID-themed track, "Christmas in April," saying: 
There's an original tune I wrote in April during the most disorienting phase of the pandemic when I couldn't help but wonder where we'll be when the holidays come, if we could be together or not. I've been writing a lot of songs inspired by this uninspiring predicament. Let's hope they all become obsolete as soon as possible.
Bird finishes the album with Robert Burns' "Auld Lang Syne." Bird's take on the New Year's anthem is the most upbeat of songs from the album that implants a message of hope for the forthcoming 2021. 
Other 2020 Holiday releases that your anti-Christmas music friend-of a-grinch will actually e
njoy:
Phoebe Bridgers' EP If We Make it Through December 
Tinashe's EP Comfort & Joy 
Lil Nas X's track "HOLIDAY"
U.S. Girls' track "Santa Stay Home"
Stream HARK! On Spotify!
Follow Bird on his socials: